Entertainment is provided on Thursday, Friday and Saturday night.
Thursday night will have some light entertainment. Past BiCons have had karaoke, a pub quiz-style quiz, scavenger hunt, and getting-to-know-you sessions.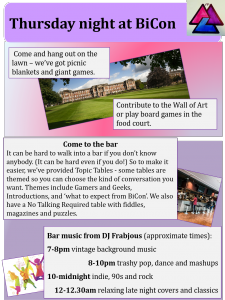 In a BiCon first, on Friday night we will be having a children's disco! A party space designed for our younger attendees, though bigger kids are welcome, too. This will run from 5.30pm-6.30 We will have some craft activities our for those who do not want to dance or just need a break.
Friday night we also have CaBiret, a fantastic cabaret show organised by Marcus. This will start at 8.30pm and finish at about 9.30pm and will be follow by some music in the bar until 12.30am.
On Saturday night is the much-celebrated BiCon Ball! This year's theme is A Bisexual Beach Ball. We love to see all of your amazing costumes but dressing up in entirely optional. The Beach ball will start at 8pm and will finish some time after the bar closes 🙂
We are really excited that there will be an ice cream van at the Ball, you will need to remember to bring some change.
All props for the Ball will be included in a range which will take place on Sunday after the closing meeting.  Raffle tickets will be available to buy all weekend from the registration desk. Please do not take anything with you when you leave as all money raised in the raffle will go towards the access fund next year.